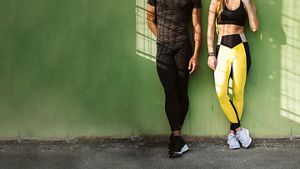 Get Active
Helping it all workout for the best
Workouts with discounts – at the gym or at home
Get Active helps Aviva customers stay fit and healthy with discounts on online workouts as well as more than 3,000 health and fitness clubs nationwide.
It also brings access to a variety of discounted products and services. These include nutritional offers such as meal deliveries and protein shakes, outdoor activities for all the family, and fitness equipment and clothing.
It's all designed to help our customers and their families get active and keep healthy… without putting too much of a strain on their finances.
How could Get Active help?
Getting fitter, happier and healthier
Regular exercise – inside or outside the home – can build confidence and help people to feel good about themselves. It could also help combat disease, prevent weight gain, improve energy levels and reduce the risk of stress and anxiety.
Getting fit and making new friends
Looking after your fitness can offer many great social benefits too. It helps to keep people motivated and on track, while opening up opportunities to build a wider circle of friends – online as well as at a health club or gym.
Who's it for?
If you have access to Get Active as part of your policy with Aviva, this service is available at no additional charge. We think it's important that customers can easily find support to live well and stay healthy every day, alongside the peace of mind that's provided by the cover their Aviva policy provides.
How do I get started?
Registering for Get Active is simple. It's just a case of following the link to the registration page for MyGymDiscounts and entering the access code provided in your policy literature.
Please note; completing the sign-up process, either online or in person at a selected health and fitness club, may result in the customer entering a binding contract with the selected gym. This could include conditions such as minimum term and monthly fees for which the customer will be responsible for paying. It's important to read the terms and conditions relating to the chosen gym carefully.
Terms and conditions can be viewed online before signing up.
This is a non-contractual benefit and can be removed at any time.
Useful information
FAQs
You can find the answers to some of our most frequently asked questions.
Terms and conditions
Please read these terms of use carefully before you start to use our site.
Health articles
Keep on top of your health and wellbeing with our guides and articles.